Shop For Your Next Kia Online with Orillia Kia
Welcome to Orillia Kia, the premier and preferred choice for Kia enthusiasts in Orillia, Ontario. Located at 338 West St South, with hundreds of Kia vehicles in our showroom and online, our tools offer our valued customers the ability to shop for their next vehicle from home.
As the trusted source for new Kia models, and quality pre-owned vehicles, our customers in Orillia, Newmarket, Vaughan, Thornhill, North York, Markham, and surrounding areas, prefer our dealership above all others. With our new website and innovative online tools, we make shopping for your new Kia convenient. Whether you're looking to purchase a new Forte, Sportage, Sorento, Soul, or Telluride, our expert product advisors will help you find the right vehicle online and in our showroom.
Starting Your Online Kia Purchase
Shopping for your next vehicle online is easy, convenient and will save you up to 2 hours. Below are detailed step-by-step instructions on how you can purchase your next vehicle online:
Step 1: Browse Our New Kia Inventory & Used Vehicles in Orillia, ON
We carry an ample selection of new vehicles and pre-owned vehicles all available online. Whether you're looking for a Sedan, Hatchback, SUV, or van, our website offers you the ability to filter vehicles based on your preferred preferences including colour, trim, interior/exterior options, and price. Once you've found a vehicle you like, read through the vehicle highlights, specifications and details to learn more about the vehicle. To help you make an informed decision, we offer comments and reviews about each vehicle and our friendly product advisors are only a click away.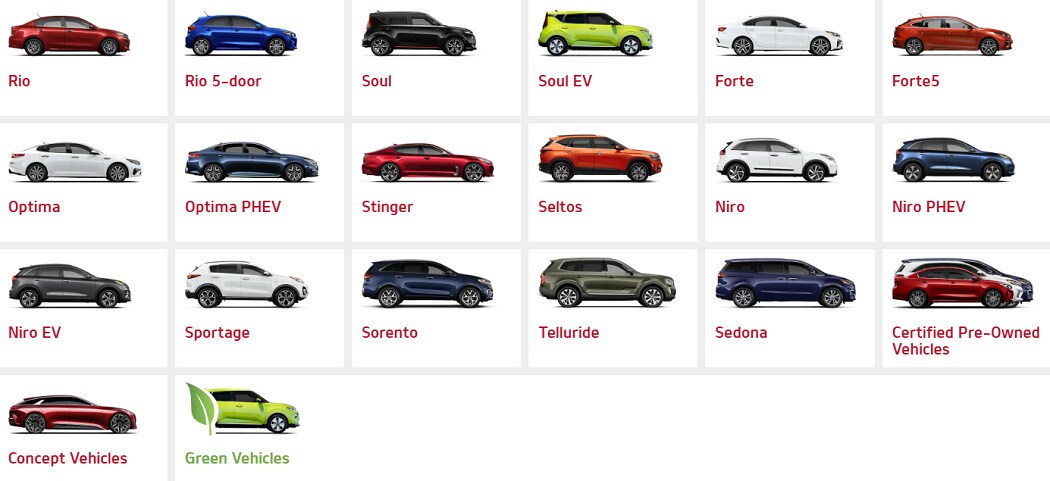 Purchase with confidence
Easy Online Purchasing
7 Day/200km Trade-in/Trade-up Program on New and Pre-owned Vehicle Purchases*
One-Price on New and Used Vehicles
Payment Deferral Options Available
*Trade-in/Trade-up Program allows for up to 7 days or 200kms (whichever comes first) to bring back your purchased new or pre-owned vehicle if you are not completely satisfied and exchange it for another unit that is of equal or higher value. Conditions apply, please ask for details. Licensing and taxes may be extra.
Step 2: Personalize Your Payments
Once you've found the vehicle you'd like to purchase, be sure to customize your deal to your satisfaction. Our online tool provides you with the ability to Structure Your Deal online, including choosing your payment terms, payment frequency, entering a deposit for your vehicle, and more. Our online tools offer complete transparency to help you make the right choice while offering you ample options to make an informed decision.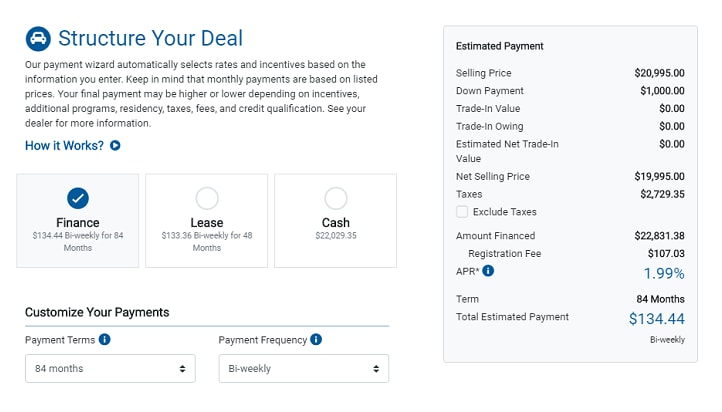 Are you interested in trading in your current vehicle? Would you like to know what the current market value of your vehicle is? At Orillia Kia, our online tools will provide you with a free valuation of your current vehicle. Visit our trade-in page where you can enter all of the pertinent details for your current vehicle and receive an accurate estimate on the value of your current vehicle. First, enter your vehicle's year, make, model, and current mileage found on your odometer, followed by your contact information. Our online tool will scour through thousands of similar vehicles in Canada to provide you with an accurate estimated value for your car.
Once you're satisfied with your customized deal, complete our online credit application. The process will save you up to 2 hours at our dealership. Once our finance specialists have received your completed online credit application, you'll be one step closer to getting approved for your car loan.
Step 5: Book An Appointment & Connect with a Product Advisor!
Call 
1 (844) 846-7021
 to connect with one of our Product Advisors or use the form below and we will be speaking with you shortly about your choice.
During business hours call us at toll-free 1 (844) 846-7021
After hours complete the form below or send an email to sales@orilliakia.com
We will answer any questions you have and provide photos and videos of the vehicle of your choice
When you are ready for a test drive we will come to your home with a clean and sanitized car
If you have a trade-in we can give you a complimentary appraisal at the same time
When you have made your decision to purchase, finance or lease, we will provide the options that suit you and present the purchase package to you.
When your purchase is finalized we will deliver the vehicle to you, at home or work
Start by browsing new and pre-owned vehicles that are available right now.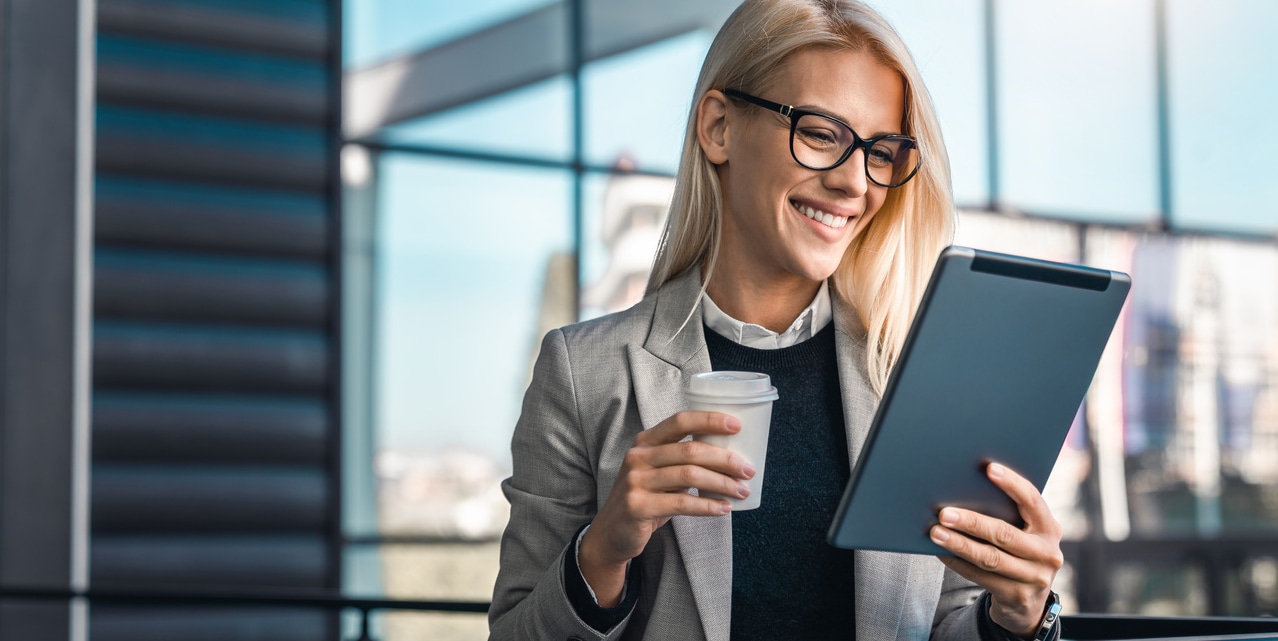 Now that you've found the Kia of your dreams, and have completed our convenient online credit application, you'll be able to book your appointment to visit, view and pick up your new or pre-owned vehicle. When you're ready contact our friendly product advisors and we'll confirm your appointment.
If you're like thousands of our customers and have challenging schedules, it can be difficult for you to find the time to visit us. Don't fret! We'll come to you! Schedule your appointment online with us and let us know when you're ready to take delivery of your new or pre-owned Kia!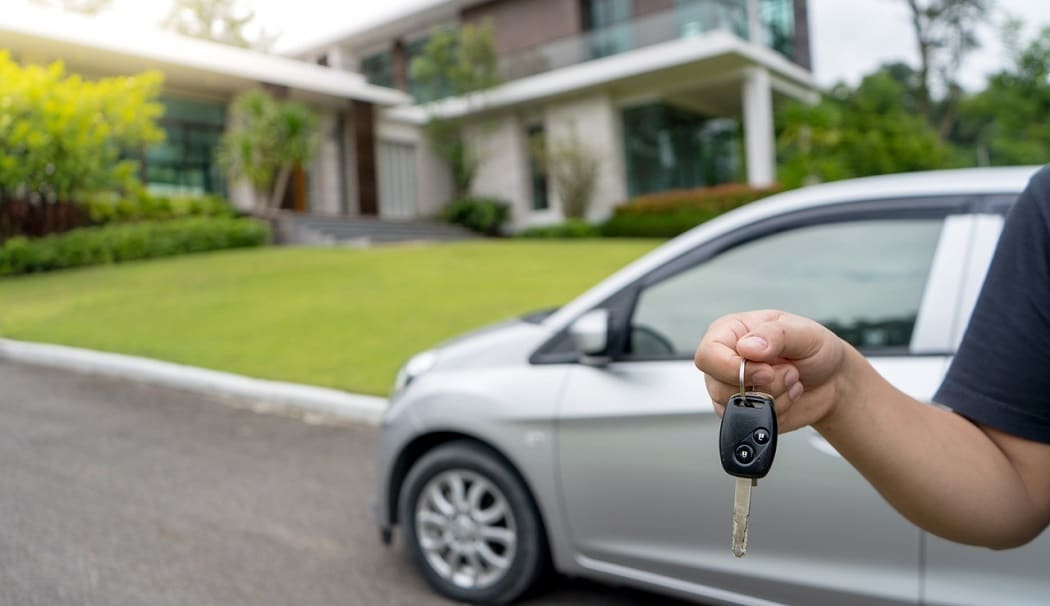 Is it Safe to Shop for a Car Online?
At Orillia Kia, your confidentiality and trust are of greatest importance to us. We offer our valued customers private and secure options to start your purchase online. Our website is secure and encrypted, so your information is kept safe from cyber threats and security issues. Look for the "https" extension in your address bar when you visit our website. This extension indicates that communication from your computer to our website is secure. So you can have peace of mind when entering your personal details to purchase your next Kia. Similarly, once we receive your information, our finance specialists and product advisors are trained to understand the sensitivity of the information they have. We'll be sure to keep your electronic files secure from prying eyes.
Questions?
Hours
Monday

8:30am - 7:00pm

Tuesday

8:30am - 7:00pm

Wednesday

8:30am - 7:00pm

Thursday

8:30am - 7:00pm

Friday

8:30am - 6:00pm

Saturday

9:00am - 4:00pm

Sunday

Closed